Long Span Shelving, 96" x 30" x 84" No Decking, 1000 Lbs. Cap., Adder
Sturdy, economical rivet shelving lets you easily store, access bulk materials
Manufacturer: Western Pacific
Long Span high-density shelving provides easy access to stored products and high capacities for bulky, heavy storage applications. Perfect for commercial, retail, warehousing, tool crib, stockroom, or light industrial use. Rivet shelving is extremely flexible and easy to move or reconfigure. It's one of the most accessible storage methods around: you can access items from all sides because there are no back or side braces in your way. It's amazingly easy to install; installation can be done without special tools in a minimum amount of time. Decking is not included.
Your price...
$180.14
SKU: 07UL9630-4AHC

Share

Freight Policies
 Product Inquiry
| | |
| --- | --- |
| Weight:122.4 lbs. | Lead Time:  3-4 days + transit time |
4 Shelves
Dimensions: 96" x 30" x 84"
1000 lbs. capacity per shelf (assumes evenly distributed loads)
Adders are connected to starters to erect a row of shelving
Does not include decking; order locally to save on shipping charges. We recommend 5/8" particle board. Wire, steel and other types are available
This shelving reduces installation costs by 30-40% over bolted shelving, meaning you can afford more shelving and more storage without giving up quality. Because it assembles so quickly and so easily, you'll also save money—not just on installation, but on future moves or reconfigurations. Because clips, corner gussets, nuts, bolts or cutting aren't required, it's a strong, simple shelving that will serve you for years. Shelves adjust on 1.5" increments. RiveTier is shipped in gray. Special sizes and colors are available. Contact us for information. Primary components are built from rugged 14-gauge steel.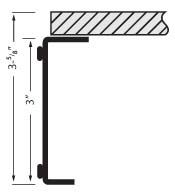 Rivet shelving is designed for hand loading only. Do not use a lift truck or other automated equipment to load this shelving. All steel parts are finished in standard grey.
The Long Span High-Capacity SSC Beam
Highest capacity RiveTier beam available; use when capacity and size are critical
Can be accessorized for even higher capacity
Particle board is fully exposed
Load capacity up to 2,400 lbs. per shelf assuming evenly distributed loads.
Post/unit capacity may affect the amount of weight that can be put on each individual shelf
Overall capacity may be affected by decking choices and number of shelves
Installation instructions (193.21KB PDF, opens a new window)
Print Catalog: Shelving Section (1141.87KB PDF, opens new window)
Shelving Assistance Request
We're here to help you
Rivet & Boltless Shelving Assistance
About SecureLockup.com