Prisoner Holding Cells
Secure minimum security cages & jail cells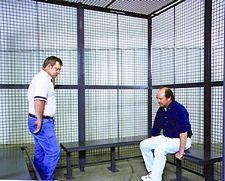 Ideal for prisoner holding cells, jails, police stations, campus security offices, correctional/detention centers, and other detainee holding venues

Heavy-duty construction and smart design prevents access to hardware from the inside of the enclosure

Easy installation, reconfiguration, and complete versatility to change layout and use existing partitions

Open but secure design allows for free circulation of existing lighting, HVAC, and fire suppression systems

Heavy duty options available for facilities requiring higher security levels
3-Sided Holding Cells - uses one existing wall
 3-Side cells fit against a single building wall, providing a secure area utilizing one building walls and three wire mesh walls. Door is mounted on the center panel at the end of your partition (as configured), but other setups are available. These cells are configured with posts at each wall and the corners. Your facility wall must be able to accommodate wall or ceiling panels to utilize a 3-sided partition without at-wall post connections.
4-Sided Cells - completely standalone unit can be used in any space
4-Side holding cells are completely stand-alone units that offer a secure space anywhere in your facility that they will physically fit.  The walls do not require connections to existing facility walls because it is completely freestanding.  The door on these cages are mounted on the center panel at the end of your partition, but other configurations are available.  These cells are configured with posts at each corner, and at doors or in support areas as needed.
All-welded Benches are a standard 13" wide and easily anchored to the floor so that the detainees cannot remove or manipulate them. Since there is no hardware, benches cannot be disassembled and cannot be thrown or moved by detainees when they are floor anchored. Available with and without handcuff rails.
Select a lock option to increase the versatility of your holding cell facility. Offered are 5-button access locks, dead-bolt, Electro-Magnetic, Coded Card Reader, and Electric Strike locks. Contact us for assistance with lock selection.
---
Modular, versatile detainee cells for jails, MP posts, arenas, fairgrounds, airports and other venues where secure prisoner detention is needed
Single wall (for a 3-sided room) or dual-wall (for corner installations) are also available.
Woven wire panel systems are used to build prisoner holding cells in correctional and detention centers across the country. Our modular sized panels can be used to construct nearly any size enclosure, in any venue where it is needed. Cells can be removed, reconfigured, or reinstalled with relative ease.
Generally a four-sided cell with 3' x 7' hinged door and ceiling is installed. Two or three sided cells may be installed where existing building walls are secure. If a wire ceiling is not desired, the wall panels may be built to reach the building ceiling. Holding cells require the assembly hardware to be installed on the outside of the enclosure. For added security, heavy 3/8" hardware may be brazed, tack welded, or pinned. Unique design prevents access to hardware from the secure side of the enclosure. System installs fast with standard hand tools; uses heavy 3/8" assembly hardware. Open but secure design allows free circulation of existing lighting, HVAC, and fire suppression systems throughout enclosure. Heavy duty options available for facilities requiring additional security.
Heavy Duty Options
The system standards may be upgraded with any of the following (contact us for assistance):
Heavier 1-1/2" x 1-1/2" 8 gauge woven wire mesh
Tamperproof assembly hardware
Larger 1-1/2" x 1-1/2" x1/8" steel angle panel frames

Locks
Standard mortise cylinder lock, a self-locking device with spring action tongue, can be used in many applications. We also offer a dead bolt style lock, and a high security totally concealed self-locking/ dead bolt lock. Top and bottom slide bolts may be also added to the door. Customer specified locks may be integrated into the system as well.
Benches
Anchorable 10-gauge steel benches may be added to the cell or purchased separately. An optional 1" diameter handcuff rail may be added for prisoner lockdown. A 1" diameter steel pipe may be added to the bench for prisoner lockdown (pictured right). The pipe is securely welded on both ends and centered 2-1/2" from the face side of the bench. If a full-length rail is not desired, single forged steel eyelets can be placed at customer specified positions along the face of the bench.